How a once-middle-of-the-pack golfer surged ahead and left the rest of women's golf in the dust.
The 68th US Women's Open Champion
Yesterday on a gloomy day in Sebonack, New York, world number one Inbee "IBP" Park won the biggest women's golf tournament in the universe for the second time in five years, marking a stellar--and seemingly sudden--rise to the very top.
We here at Legitimate Golf would describe ourselves as lukewarm fans of women's golf. However the success of this particular player is quite intriguing considering her origins, and a rather ordinary start to her pro career. For anyone with a deep interest in the game, it merits a closer look. Not surprisingly the US media is by and large dropping the ball, but of course that's where we come in.
We'll pick up the story in the early 2000s, when the South Korean native moved to the US to broaden her golf horizons. (Whether the rest of the Park family moved along with her is still unclear.) Even as a fresh-off-the-boat teen struggling through American high school in Las Vegas, Park shows signs of golf excellence right away, at the national level to boot. The fourteen-year-old thoroughly dominates the 2002 US Junior Girl's Championship, winning both the stroke and match play events.
The following year she mounts an admirable title defense, winning stroke play medalist again but falling in the final. The year after that, in a foreshadowing of her present-day tournament stroke play dominance, she wins medalist honors for the third straight year. (We don't know where these kinds of USGA records are kept, but surely it's an unparalleled feat.)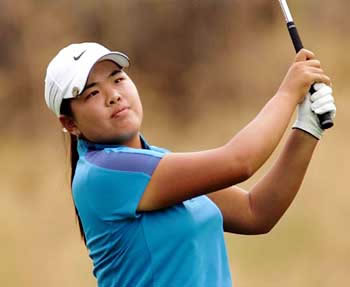 Inbee, the killer as a youth. Her English at this point might not be so good, but meet her on the golf course, and you gonna be in trouble.
Finally in 2005, the last year she is eligible to beat up on underage golfers, she reaches the US Junior Girls final once again. She is routed by one of her future rivals (and coincidentally yesterday's runner-up) in a young IK Kim, but a fourth strong performance in this tournament caps off an altogether very distinguished junior career.
In 2006, still just 17 years old, Park petitions the LPGA to waive its minimum age requirement. Not surprisingly she is denied, but makes the best of things by turning pro anyways and qualifying for the LPGA's minor league feeder tour, known then as the Duramed Futures Tour.
She does not win during her year here, but consistent play puts her in third place on the tour's money list, earning her full exempt status on the LPGA for 2007.
Inbee's LPGA rookie year is not a smash success, but she plays steadily enough to rank 37th in money and renew her tour card for the following year. And already, signs of her current world-beating form emerge: she ranks fourth on tour in putts per round.
The beginning of 2008 shows promise and some gradual improvement--a couple of early season top tens. But then in June, she shocks herself and the golf world by coming out of nowhere and making her first professional win the US Women's Open at Interlachen CC in Minnesota. The youngest USWO champion ever at the clueless age of 19, she wins in convincing fashion by four strokes.
The remainder of the year is sort of a washout, but '08 is a successful campaign nonetheless. Besides the big win, Park piled up some top tens and finished #7 in money and #1 in putts per GIR. All poised for a run at the top right?
This is where it gets interesting. In 2009, Inbee not only fails to win, but suffers her worst year on tour to date--a slew of missed cuts, just two top tens, a bloated scoring average, and a fiftieth-ranked $271,303 in prize money. No doubt some dodgy ballstriking contributed to these woes--138th in GIR and 142nd in driving accuracy. Yet all the while Inbee's putting game continues to relentlessly seek out and find the hole--this year she ranked first in both LPGA putting stats. If she could just manage to hit more greens, surely the scores will drop...
2010, a fresh start. Inbee makes good on her goal to hit more greens, and manages a big improvement, rising to 30th in GIR. But when a golfer starts hitting more greens, naturally the putts tend to multiply. She slips down the putting stat rankings. No wins this year, but some more top tens and a bunch of money, enough to rank eleventh. Plus a couple of smalltime wins while slumming it on the Japanese tour. Baby steps.
2011, time to finally put it all together right? Wrong. It's sort of a setback year, again, with only three top tens and about as much money as she earned in her rookie year. The tag of "fluke major winner" begins to loom. But the putting continues to shine, and the ballstriking continues to improve. Still, all signs seem to point to a steady, if ho-hum journeywomen career in Ms. Park's future.
2012, like the year before it, begins without distinction. Grinding along, making cuts, but not much else. Still winless since '08. Towards the end of the year though, something clicks, and Inbee starts making regular appearances on the first page of leaderboards. In July she finally busts through the funk and wins at Evian in France, then closes out the season with tournament finishes of T3, T2, 2, 2, 1, T15, 2, T17 and T2. Once again she leads in both putting categories for the year, and for the first time leads the money list, taking home over a cool $2 million.
The last three USWO champions celebrating on 18 yesterday, probably having a good laugh at the state of American women's golf.
Which brings us to the present. A boatload of achievements, six wins in a half year span, the earning of Immortal Godhead Status. Grand Slam feats under intense pressure and expectations. Video gamelike stats. Inbee's ballstriking, which was once a liability, is now a strength. 45th in Driving Accuracy and 15th in GIR are impressive by themselves. Coupled with #1 ranks in putts per round and putts per GIR however, it's nothing short of devastating, make-everyone-wanna-go-home golf. Currently in the world rankings, the gulf between IBP and #2 Stacy Lewis is five points--the same gap between Lewis and the world's 25th ranked player.
Not only that, but sources say that she has all but locked up the 2013 Legitimate Golf Putter of the Year award. Stay tuned for more.